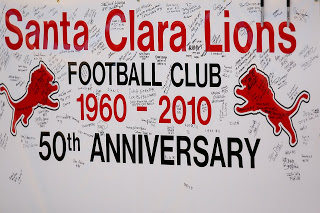 Honoring their 50 years of excellence and paralleling their winning tradition into the future, the Santa Clara Lions celebrated their 50th anniversary in grand style at their home opener on Sunday, September 5 at Townsend Field.
With alumni, military veterans, parents and cheerleaders of past and present attending, a plethora of Lions supporters gathered for the celebration capped by the Lions defeating the West Valley Vikings 30-0.
With Townsend Field adorned with red and black everywhere thanks to the efforts of the Lions cheerleaders, friends and family, Townsend was a sea of Lions pride for the celebratory day that included remarks from Mayor Patricia Mahan, who's son Colin participated in Lions' programs, as well as Council member Jamie Matthews.
"Santa Clara Lions Football Club is the most successful Pop Warner Football program on the West Coast, and I am proud to say it is because of the Staff and players in our program today and all the teams and cheer squads over the years, stated Craig Connelly, longtime ambassador, coach and athletic director of the Santa Clara Lions Pop Warner Football Club.
Long recognized as a leader in youth sports in the Santa Clara community through his leadership, commitment and dedication to the fabled Santa Clara Lions organization, Connelly received the distinguished 49ers Perry/Yonamine Unity Award in 2009, honoring those who have demonstrated "exceptional commitment to promoting unity within their team and in their community," the 49ers Perry/Yonamine Unity Award "recognizes individuals for their outstanding community achievements."
The award, named for the former 49ers players and pioneers of unity and diversity, Joe "The Jet" Perry and Wally Yonamine, was presented to Connelly in 2009. Connelly, a, was chosen as the Unity Award winner in the youth football category. Serving as the head coach for 43 years, and President and Athletic Director for the past 39 years, Connelly led his team to a third place finish at the Pop Warner Super Bowl in Florida in 2009, the Lions' second-straight Pop Warner Super Bowl berth.